Scottish Pavilion makes its mark on Venice with surreal unicorn mask
May 31 2016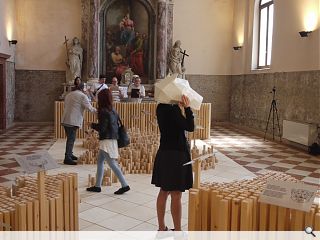 Prospect North
, part of the Scottish Pavilion at the Venice Architecture Biennale, has made its mark on festival-goers who have donned surreal unicorn, moose and polar bear masks to transport themselves from Italy to the Highlands..
Each animal head hides a set of virtual reality goggles which transport the wearer to the past, present and future of the Highlands from the clearances through to today's inward migration and possible re-population in the future.
Elsewhere a three dimensional map handcrafted from timber outlines an expanded Nordic region with 3d visualisations and films triggered by viewers who scan the map with their mobile phones and tablets.
Neil Stephen of Dualchas Architects explained: "In this element we look at how the communities in the Highlands were destroyed, along with much of its Gaelic culture. We then look at how contemporary architecture is trying to connect with the past, but finding that it is largely a privilege of the wealthy as the young still leave, pushed out by high land values. We then imagine a different future where economic opportunities to the north can repopulate the Highlands."
The exhibition seeks to show how under population can be overcome through a fresh renewable energy push, high speed broadband and transport and a diplomatic drive to expand trade routes.
The Prospect North exhibition will run through to 25 June at Ludoteca Santa Maria Ausiliatrice in Venice.
Back to May 2016