Community led design and build project gets underway at Fountainbridge
|
Send to friend
May 27 2016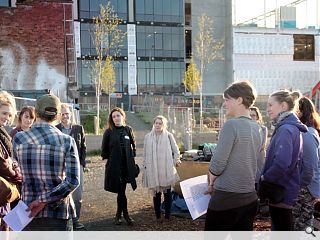 Fountainbridge residents and students are being invited to collaborate on the design and build of a canalside rest during a day-long design and build event facilitated by Here + Now CIC.
The #SpaceToSit public realm initiative will see improvements made to a footpath along the Fountainbridge Canal through the installation of handmade furniture which will be left in-situ through July.
Thereafter the seats will be installed at other potential and community projects in stalled space development sites around the city as a massive regeneration programme around Fountainbridge continues.
Project director Liz Thomas of Here + Now said: "The exciting thing about this project is the commitment and involvement of the existing community. They are truly an inspiration to other community groups who might be wondering what they can do to make change in a place near them: this project provides an opportunity to share a token of what's possible with other community projects across the city."
Here + Now received a chairman's award for architecture at
Wednesday night's Scottish Design Awards
.
Back to May 2016