Edinburgh villa to make way for 16 flats
May 4 2016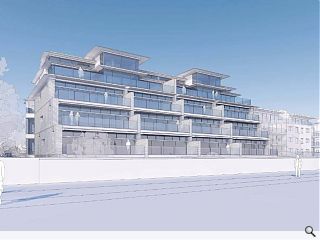 Richard Murphy Architects have submitted plans on behalf of AMA to build 16 flats on the site of an existing villa at Kinnear Road, Edinburgh, by developing a substantial garden plot.
Utilising changes in level to its advantage the proposed scheme will include a semi-basement car park above with a three storey smooth ashlar stone façade above presenting itself to Kinnear Road as an 'understated' response to the more flamboyant southerly elevation.
Here separating cross walls extend out across a series of stepped external terraces to form privacy screens with continuation of the front stonework round the gable.
In a statement the architects said: "To the north, the building presents a three storey elevation to Kinnear Road, is faced in stone and is a deliberately controlled and understated response to the architectural approach which has been adopted to either side. An attic storey is set back and articulated with bay windows. On the side elevations, the stone gives way to a buff coloured brick which also forms the otherwise substantially glazed south elevation.
"The fall on the site allows the garage and other utility accommodation to be located at a half level below the existing garden level. At a slightly lower level two garden apartments are located south of this. These have their main access via the internal lift but also are served by the pedestrian paths adjacent to east and west boundaries. Each of these apartments have a south facing garden."
The flatted scheme is intended to act as a point of 'transition' between an eclectic mix of neighbouring properties.
Extensive glazing will maximise southerly views
Back to May 2016