Strathclyde student's trailer pavilion completes nationwide tour
April 22 2016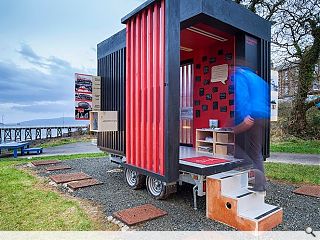 A custom-built mobile pavilion conceived and created by Strathclyde University Architectural Master's student Paul Pointon on behalf of the Glasgow Institute of Architects has completed a tour of Scotland with in an effort to facilitate community consultation through organised events and a wider promotion of architecture.
In a statement the university said: "The public visiting the pavilion collaborated in an architectural dialogue, using interactive workshops to give their opinion on what would make their community better.
"Once on site the pavilion acts as a large scale public intervention housing a public fueled art piece which takes the shape of a data map. This is generated by asking curious residents a simple architectural question and results in a colourful three dimensional lattice work which represents the specific community's answers."
Clad in vertical timber battens the live-build pavilion includes removable pieces of bespoke furniture that can be attached to the exterior and was constructed with assistance from MAKlab, Woolgar Hunter and fellow architecture students.
The pavilion will be featured, for the duration of the Festival of Architecture, led by the RIAS, at the Glasgow Collective.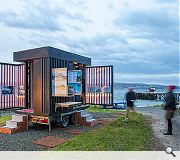 The Eolas Pavilion is a wheeled 3m long trailer which was sent as far afield as the Inner Hebrides, visiting communities such as Isle of Coll, Kilcreggan and Dumfries along the way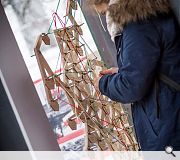 Colourful three dimensional latticeworks were built to represent community views
Back to April 2016