Anniesland flats proposal stokes controversy
April 18 2016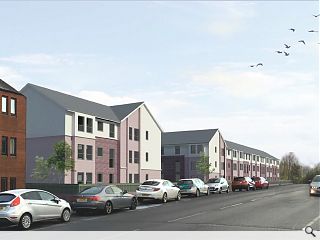 A bid by AS Homes, Sanctuary Scotland and OCS Group to build 61 CRGP designed homes at Spencer Street, Anniesland, has sparked a backlash from locals.
In their design statement the architects state that projecting brick bays and feature gables will be used to 'create a strong sense of place' and 'articulate the edges of the new development'.
They write: "The proposal sits next to existing three storey housing units, in which the proposed development aims to tie in with in terms of sight lines.
"This will allow the broad street of Spencer Street, to retain its sense of enclosure, and add visual interest to the street via its architectural detailing and materials."
Citing concerns pertaining to the design, parking, traffic and the felling of mature trees however some
100 objectors have taken the project to task
; claiming that, amongst other things, the proposed colour and materials do not match predominant use of brown and yellow brick on the street.
Back to April 2016