Edinburgh church sees the light with new extension
April 18 2016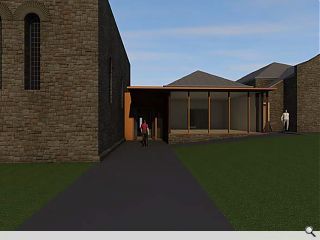 LDN Architects have drawn up plans to
extend St Anne's Parish Church in Corstorphine, Edinburgh
, following a decision to consolidate operations at the A-listed church.
This will see a new glazed extension finished in bronze coloured metal cladding designed to facilitate wheelchair access to a later 1928 hall through provision of a stairlift in addition to a new server and toilets.
In doing so period features such as a slate roof, bell tower and timber door will be retained together with installation of a fully glazed façade to showcase the life of the church.
In their design statement the architects observed: "The current proposals carry on with this philosophy of extension, moving out the walls of the building to create spaces within that are more appropriate to the workings of the contemporary church. The existing stone will be reused in part to form a plinth to the base of the new extension, however the brief demands that the façade be more transparent and welcoming. The glazed facades will showcase the life of the church within.
"To the south of the site, facing the main St John's Road, the church would like to maintain an open aspect as well. They hope to be able to hold open the existing timber doors, inserting glass doors behind them. This will signal that the church is open and welcoming. The original timber doors are being kept and fully maintained."
Back to April 2016