£32m Harris Academy reaches practical completion
April 13 2016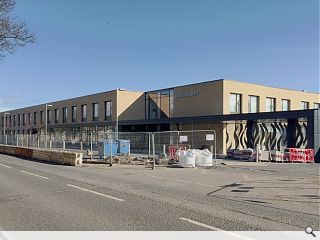 Holmes Miller Architects have reached practical completion at the
£32m Harris Academy
ahead of its first intake of pupils this August.
Hosting 1,200 pupils the new secondary provides 15,000sq/m of accommodation arranged around a split level social and assembly space on the site and includes its own swimming pool and sports facilities which will be made available for community use.
In a statement the architects said: "Externally, a restrained and limited palette of materials (including 250,000 facing bricks) creates a building that is both considerate to its context and is contemporary in form. A considered approach to the landscaping around the building ensures that the building sits easily within its surroundings, with large terraces bridging the changes in level.
"Holmes Miller embraced the opportunity to create outdoor classroom spaces, environmental gardens and social areas. A high level plaza accessed from Perth Road provides a view across the tree line towards the River Tay, and creates a distinctive break-out space adjacent the school library."
The new school is set amidst the historic B-listed Academy buildings, a number of features from which have been carefully incorporated.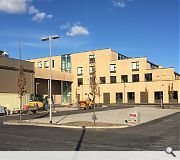 The new school replaces a B-listed building designed by Thoms & Wilkie dating from 1926
Back to April 2016