Centre for the Scottish War Blinded to rise from mid-May
April 12 2016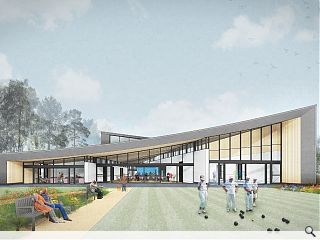 Work to deliver a new Centre for the Scottish War Blinded on the outskirts of Paisley is set to get underway from the middle of next month following the successful delivery of a
similar centre in Linburn
.
Offering day care, activities, workshops, training and social opportunities for members the new centre will be built in tandem with a new Royal Blind care home to the north, presenting opportunities for shared facilities and connections.
In a prepared text architects Page\Park stated: "The building is organised simply in order to provide Scottish War Blinded's members with a layout that is easy to navigate and remember. The floor plan is organised as two further 'wings' between which are the entrance, circulation and dining areas. The 'wing' facing Barrhead Road contains a sports hall and gymnasium, above which staff offices are arranged. The sports hall has been designed as a flexible space allowing for use for sports such as acoustic shooting and archery, and has the potential for larger social gatherings.
"The second 'wing' of the building includes a number of smaller rooms which include a workshop, art room, living skills kitchen, IT room, therapy room and quiet garden room for the members to relax within. The building reduces in height above this wing to provide a more domestic scale in contrast to the wing facing Barrhead Road. Above the central area between these two wings are located five dramatic rooflights which feather out from the sweeping roof and provide diffuse light and interest to the central space."
Inspired by the design of military aircraft with a sweeping zinc clad roof the facility will front Hawkhead Road and includes a bowling green, gardens and pergola.
Back to April 2016