University of Glasgow takes possession of Western infirmary site
April 12 2016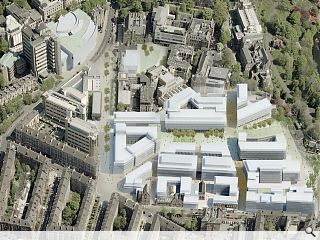 The University of Glasgow has taken possession of the 14 acre former Western Infirmary site, enabling the progression of a £1bn expansion of its Gilmorehill campus over the coming decade.
Key facets of this scheme include creation of a research and innovation hub alongside a new College of Arts and buildings for social sciences, the Institute of Health and Well-being, and the School of Science and Engineering.
Public realm enhancements such as a central square and newly established pedestrian routes will also be introduced with alternative commercial uses sought for five listed buildings.
Ann Allen, director of estates at the university, said: "We're looking to build roughly 800,000sq/ft of accommodation with a mix of uses including new learning and teaching spaces, a research hub and buildings for the arts and social science, the institute of wellbeing and eventually science and the institute of infectious diseases.
"There will also be an opportunity to build some commercial buildings along the Church Street entrance that will allow us to open up that street and ensure that it links with Byres Road.
"One of the key features of the development is the way it will allow us to link Byers Road with Dumbarton Road and therefore we want to open up the whole area and create a new central square to encourage both the community and university to move through the campus."
The important milestone follows the
launch of a consultation
seeking to establish community views on the expansion, the first sign of which will be a learning and teaching hub on University Avenue.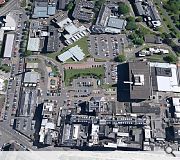 An aerial view of the existing Western Infirmary site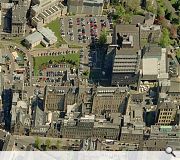 Portions of the historic infirmary will also be demolished
Back to April 2016