National Gallery to build Granton collections hub
March 11 2016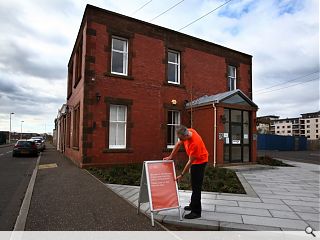 The National Galleries of Scotland is set to press ahead with an archive, conservation and research centre at Granton after the Scottish government donated land for the initiative - for which an architect has yet to be appointed.
The National Collections Facility is intended to open up public access to a trove of 100,000 paintings, drawings and sculptures, for which there isn't the space to display currently, by building an additional 14,000sq/ft of display space.
Patricia Convery, director of audience engagement at NGS, said: "We've been grappling for some time with trying to sort out the future of our collections, including the storage of it, how we maintain and provide access to the public.
"We have an art store in Granton at the moment, but it's really quite small compared to what we need now. The rest of the collection is in pockets around the city. We need much more space and really want to do a lot more with the collection as well."
Situated at Madelvic House the project will include the remains of the oldest purpose-built car factory in the UK, saving it from the wrecking ball and follows a move by the National Museums of Scotland to consolidate 12m items on a neighbouring site.
Scheduled for completion this summer this separate project has been
designed by Hoskins Architects
.
Photography by Steve Cox
Back to March 2016