University of Glasgow host campus development consultation
February 17 2016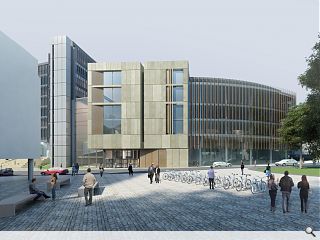 The University of Glasgow has held the
latest public consultation
into its ambitious campus development plans, focusing on an HLM's learning and teaching hub on University Avenue and a master plan for the Western Infirmary site drawn up by 7N.
Growing student numbers have prompted the university to pursue a new 'gateway building' on a surface car park adjacent to the Boyd Orr, designed to improve connectivity between the Gilmorehill campus and wider west end whilst providing much needed new teaching spaces.
The project concept involves demolition of the Mathematics Building to open up the site as a central circulation space with classrooms stacked within a central 'teaching nest', below which will sit a large double height foyer.
Dedicated study areas will wrap around the learning spaces on each floor with a view to fermenting social interactions with key features including a fifth floor café and roof terrace overlooking University Avenue and a 500 seat auditorium.
The consultation will run until 21 February between 11:30 and 19:00 on weekdays and 11:00 and 16:00 on weekends in the atrium of the Wolfson Building, University Avenue.
Back to February 2016