Axis Mason further develop City Wharf designs ahead of site start
|
Send to friend
February 15 2016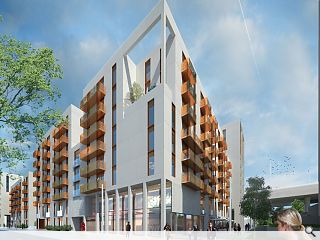 Axis Mason Architects have refined their proposals for City Wharf having obtained planning consent for the
603 home private rental scheme on behalf of Dandara
.
This will see heights reduced throughout with the tallest element falling from 18 to 16 storeys, although overall density will remain unchanged, together with removal of a planned 1,616sq/m of commercial space.
As before the eastern edge of the site along Piccadilly Street will be landscaped to create Anderston Walk, a linear park and waterfront 'civic square' intended to buffer residents in the shadow of the Kingston Bridge, although this will now form an unbroken corridor to the river.
In their design statement the architects noted: "On the outer 'public' facades an ordered frame with linear balconies or an ordered arrangement of projecting balconies is applied. A datum is created at two storeys with the use of a solid balcony and an enhanced material finish on these lower floors. The datum is repeated and tied through to the other proposed buildings on the site. Vertical balcony screens, made of perforated metal, are added to the upper floors to allow protection to the elements and create a defined top to the building."
Construction is expected to get underway in the third quarter.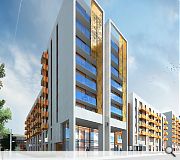 East to west routes also threaded through two courtyard and one L-shaped block with residents amenity space peppered between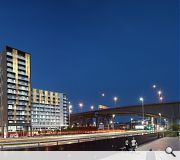 Parkland will be used to negate the negative environment around the Kingston Bridge
Back to February 2016