Neon artwork marks Waverley Arches re-opening
|
Send to friend
February 15 2016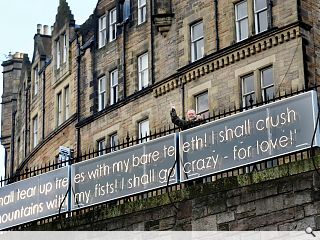 An illuminated artwork has been installed at Staran Architects recently
renovated Waverley Arches
to mark the opening of a row of 19 renovated Victorian arches on East Market Street, Edinburgh.
First phase of the £150m Bew Waverley development the artwork relays a quote from Don Quixote about the power of love and is the first installation to appear as part of the UNESCO City of Literature Trust's Word on the Street project.
This follows hot on the heels of a 25m poem suspended called Spiral by Elizabeth Burns to be suspended from the redeveloped Old Sailor's Ark building on the Royal Mile.
Clive Wilding, New Waverley's project director said: "These exciting projects show exactly why New Waverley is, and will become, such a special city centre destination. They all celebrate the unique attributes that the area has - both in its physical and artistic heritage and the incredibly special atmosphere of Edinburgh's Old Town."
The quote was selected by Monty Python star and movie director Terry Gilliam who was in town for the unveiling over the weekend.
Back to February 2016