ARPL shortlisted for Dublin primary school
|
Send to friend
February 10 2016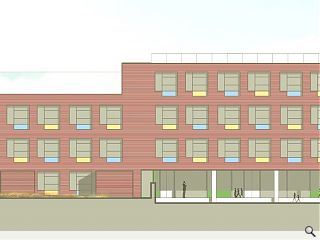 ARPL have been shortlisted in an open international design competition set by the RIAI to build a 600 place primary school in Dublin city centre
In a statement the architects said: "ARPL's proposal concentrated on addressing issues of the relationships between pupils in what had to be a multi storey structure. The model we have chosen to design is based on pupil clusters as small schools within a school all focused around a social heart.
"Each year grade is formed as a cluster of three classrooms with shared intermediate learning spaces. On each floor three classroom clusters wrap around the outer edge of the plan focusing back into the central open void with main shared facilities of general purpose spaces, resource area and special tuition rooms.
"This void is formed as a series of internal and external stepped terraces allowing fantastic daylighting and access to cascading roof gardens for all the pupils."
ARPL are scheduled to move on site with a second Dublin school later this year after winning an earlier competition staged two years ago.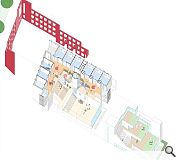 A central atrium connects all interior spaces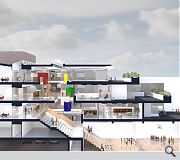 Site constraints dictaed a multi-storey solution
Back to February 2016