Glasgow's Springfield Quay set for makeover
|
Send to friend
February 4 2016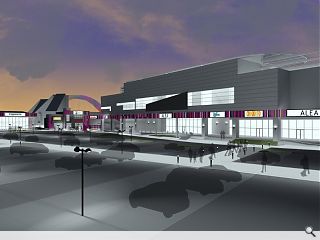 Threesixty Architecture has submitted a planning application for a programme of
façade and public realm improvements
to Glasgow's Springfield Quay leisure park following its purchase by Strathclyde Pension Fund.
The makeover will include new wayfinding, lighting and rationalised pedestrian and traffic routes to streamline the chaotic environment of the park at present with illuminated vertical aluminium/acrylic slats affixed to existing facades.
Kieron Goodman, director of Threesixty Architecture, said: "On a modest budget Threesixty Architecture have proposed a high impact branding strategy, appropriate to the leisure use. A bold and prominent lighting and signage ribbon 'knits' various offers together around the north and north-west edge. This incorporates new leisure units and a new public space that aims to draw pedestrians to an area that has historically struggled with unit visibility and success.
"Proposed waterfront 'lantern' signage totems will offer a sculptural and signifying cue to the Quay from the city centre."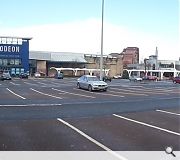 Springfield Quay's new owners are keen to address the 'poor' public realm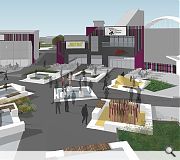 The 'monotonous' facade of the existing park will be enlivened by magenta coloured slats
Back to February 2016