Edinburgh Baptist Chapel to be transformed into holiday flats
January 25 2016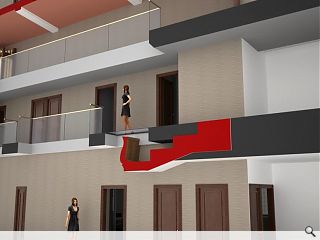 Planners are recommending that approval be granted to the transformation of the B-listed Charlotte Baptist Chapel on Rose Street into
22 serviced apartments and a pub
.
Designed by J.A. Leask Architects on behalf of Glendola Leisure the work will see the former sanctuary remodelled to provide bedroom space operated by the Carlton Hotel Collection with ground and basement levels given over to a gin and steak restaurant.
Centred on a triple-height interior space floors will be divided horizontally by insertion of new floor plates, some of which will be 'punctured' to maintain through sight lines.
In a design statement the architects observed: "Further to the exposure of the balcony underside, there will also be three structurally glazed floor sections over parts of the balcony so guests can observe the original pew steps and timber work from the second floor.
"… the basement is robustly more sound proofed, the two storeys can be united again after 22 years and the south elevation windows are perfectly positioned for rapid ventilation and daylight to the rear of the staff accommodation."
Externally the Baptist Chapel will remain as is save for the addition of rooftop plant and new signage.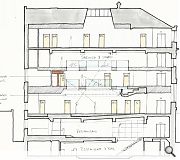 Apartments will be arrayed around a triple height interior space
Back to January 2016