Turnberry to build 132 new homes at Yoker Riverfront
January 15 2016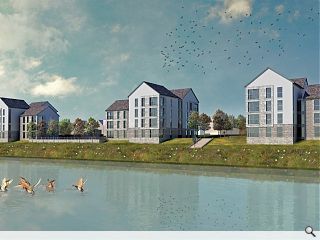 Turnberry Homes have tabled plans to
build 132 new homes in a second phase of development at Yoker Riverfront
, whilst extending neighbouring path and cycle networks including a riverside walkway.
Occupying 3.4 hectares of vacant land fronting the River Clyde the scheme will see four storey flats built along the riverfront, reducing to detached, semi-detached and terraced houses to the north up to a former railway embankment turned cycle path.
In their design statement Ark Architecture + Design remarked: "The development has been organised around a series of connected streets and spaces. The new access will be taken via Ellerslie Road which will lead into the site from the east along a tree lined streets fronted by two storey houses.
"Along the riverfront a series of flatted pavilions increase the scale to 3 and 4 storey, whilst allowing views through to the river from the streets behind. A central area of open space is the focus for the development. This high quality amenity area is overlooked by houses and will encompass casual and informal areas for seating, tree and shrub planting with boundaries defined by hedging. A formal area of play will also be provided."
Homes will be finished in dry dash render with cast stone details.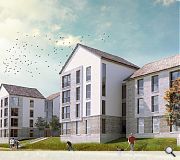 Views will be maintained through the site to the river
Back to January 2016