£112m tender issued for Queen Street Station rebuild
December 29 2015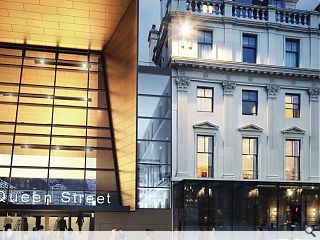 Network Rail have issued a £112m tender to rebuild
Glasgow's Queen Street Station
, which aims to increase capacity and accommodate a new generation of eight car trains.
This will see the demolition of the Millenium Hotel extension, Consort House and Dundas Street canopy to allow an expanded concourse and platforms to take their place.
Improved entrances will also be built at Dundas Street and George Square with new lighting, a ticket office and staff accommodation block also included.
Rodger Querns, programme director for the Edinburgh Glasgow Improvement Programme, added: "This is further good progress in the delivery of EGIP. We have already successfully completed a number of key elements of EGIP including the electrification of the Cumbernauld line and Haymarket station and are on the ground across the Edinburgh-Glasgow railway preparing the line for electrification and building Edinburgh Gateway Interchange at Gogar, where we are also making good progress."
The project is due for completion in 2019.
Back to December 2015