Inverness Museum set for bling revamp
December 22 2015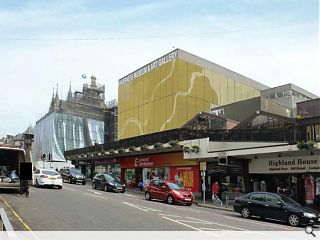 The grey lump of Inverness Museum is to be spruced up with a bling new overcoat following submission of an
improvement plan by Highland Council
.
This will see new perforated light gold coloured anodised aluminium cladding attached to existing concrete cladding panels to spruce up the dilapidated structure pending wholesale redevelopment in the longer term.
Imprinted upon the façade is an abstract representation of the River Ness, developed in conjunction with artist Lucy Woodley.
In their design statement Threesixty Architecture said: "The panels will be perforated with varying diameters of circle to create a pattern based on a map of Inverness and the surrounding area. In addition it is possible to varyingly etch and polish the surface of the panels to provide additional texture to the pattern.
"The cladding will be supported on rails fixed to the existing wall surfaces. Lighting will be fitted in a strip along the bottom of the cladding to back-light the panels providing a gradiated glow through the perforations."
Subject to approval work could commence next summer.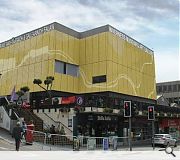 In the longer term it is hoped to redevelop the museum site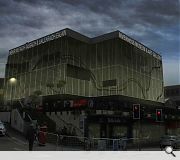 Panels will be back-lit by LED lights at night
Back to December 2015