New batch of Royal High School images published
December 15 2015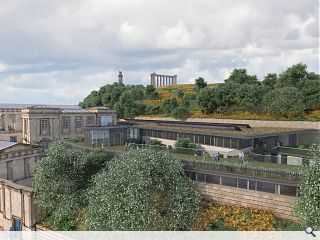 A fresh series of perspectives illustrating the impact of a planned makeover of Edinburgh's old Royal High School have been
published by the Royal High School Preservation Trust
.
One of two competing schemes for the landmark it will see the historic property converted into a performance and rehearsal space for
St Mary's Music School by Richard Murphy Architects
.
Accommodating 120 pupils the new school will include a 300 seat concert hall within the former debating chamber and a publicly-accessible garden to the west and north of the site.
William Gray Muir, chairman of The Royal High School Preservation Trust, said: "The Trust's plans have remained tightly focused on both preserving this exceptional building while bringing forward progressive, innovative designs to give it a modern and sustainable use, both for pupils studying at St Mary's and for members of the public wanting to enjoy its new concert space and public gardens."
Dr Kenneth Taylor, headteacher of St Mary's Music School, added: "A new public entrance, grand terraces and the addition of new and near invisible school buildings to the east and north protect both the integrity and setting of the Hamilton masterpiece.
"It all combines to provide enhanced facilities for future expansion of the school including large, well-lit classrooms and practice areas and a large outdoor play/garden area. A new landscape garden to the west will offer public access when the school is closed. Residential accommodation for boarders comprises en-suite study bedrooms and a large communal recreational area."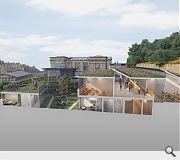 'Near invisible' buildings will be built to the east and north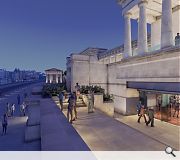 A hotel-led project overseen by Hoskins Architects has been recommended for refusal
Back to December 2015