Edinburgh church to make way for new student housing
December 15 2015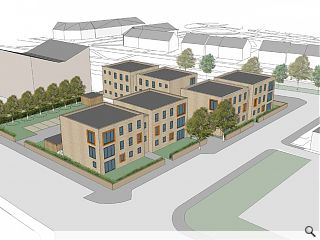 A disused church on Edinburgh's Pennywell Road, Muirhouse, is to be demolished and replaced by new build student housing under
plans submitted by EMA
.
This seeks to repair the streetscape by arranging three separate blocks along the site perimeter, faced with brick and dark grey cladding and retaining an existing boundary wall.
In their design statement EMA said: "Flats have been located to have active frontage onto open space, streets and courtyards. The use of positive boundary treatments and a strong landscape structure will ensure the new development provides a sense of place and setting from the outset."
The scheme will complement recently delivered
new housing to the south
.
Back to December 2015