CALA Homes to build 101 flats on Glasgow's Mansionhouse Road
December 10 2015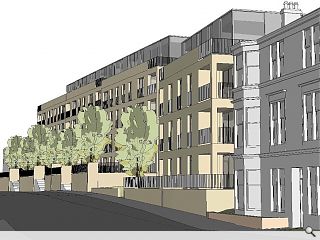 CALA Homes have
submitted plans for 101 homes
arranged over three blocks of up to five storeys at Mansionhouse Road, Glasgow.
Penned by Macmon the project seeks to adopt a traditional 'tenemental' form with a setback façade of facing brick fronting a landscaped amenity space and existing stone retaining wall. A setback upper floor will be finished in fibre cement rainscreen panels.
In their design statement the architects said: "The architectural design is conceived to promote 'active' facades, modelled with common entrances, balcony features and fenestration strongly defined. The grouping and rhythm of these features respect the bays and fenestration patterns on adjoining tenements.
"Innermost elevations are, in comparison, more 'passive but assist a homogenous aesthetic for the development through continuity of fenestration patterns and material selections."
Common entrances will lead out onto a public footpath with DWA landscape architects coordinating the open space strategy.
Back to December 2015