12 Edinburgh closes in line for illuminating makeover
November 25 2015
Edinburgh World Heritage, in partnership with Napier University and the city council, is to give 12 Old Town closes a lighting focussed makeover including new artwork and public realm enhancements.
In a demonstration of the £380k project the organisation has prepared a demonstration installation outside its Bakehouse Close base to illustrate how considered lighting design can encourage greater pedestrian use.
Here a range of alternative lighting approaches are being showcased to show residents, businesses and the public how the unique charm and history of such places can be enhanced, allowing them to become useful pedestrian connections once more.
Adam Wilkinson, director of Edinburgh World Heritage said: "Historically the closes were the secondary routes through the medieval city, however they have long been underused and in some cases neglected spaces. We hope that with the help of residents, students, artists, local businesses and the City of Edinburgh's street lighting and neighbourhood teams we will be able to create something of beauty and enchantment in the closes. We hope to encourage people to explore these neglected historical spaces, improving the quality of the spaces for the residents, and supporting businesses by encouraging footfall".
There are 74 closes and wynds surviving within the Old Town world heritage area with Riddle's Close, Crichton's Close, Stevenlaw's Close, Fleshmarket Close, Carruber's Close, and Bakehouse Close all early front runners to receive a makeover.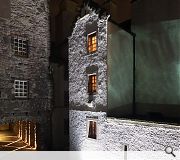 Edinburgh's unique layout of closes off the Royal Mile has been likened to the bones of a fish
Back to November 2015