'Climate proof' Cairngorms retreat secures planning
November 25 2015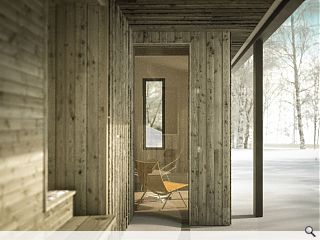 Moxon Architects have secured planning consent for a 'climate proof' forest home at Crathie Wood within the Cairngorms National Park, forming part of a loose cluster of residential and community buildings.
Quarry House sits within a manmade depression formed by mining activity, affording a degree of protection from the extreme weather which can affect the area, where bitter northerly winds can cause temperatures to plummet to -20C in the depths of winter.
To beat the elements rooms are oriented to the south and west to maximise solar gain whilst the homes profile follows the slope of the landscape to minimise exposure.
Finished with a combination of wide rough sawn and narrow smooth planned larch boards the property will be topped by a 'crinkly tin' mono pitched roof with deep box gutters and snow rails.
Architect Ben Addy commented: "The brief for this house was that it should be of the woods as much as it is in the woods. Although the overall footprint is very simple the interior spaces are deliberately 'misaligned' in order to create pockets of space that embed the building in its surroundings with sheltered niches and frequent unexpected views."
Construction is expected to get underway by the middle of next year.
Back to November 2015