Scotch Whisky Association toasts new HQ
November 16 2015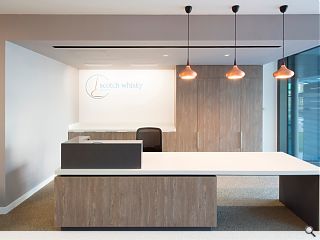 The Scotch Whisky Association has moved into a bespoke headquarters at Quartermile 2, Edinburgh, following relocation from its long-standing base at Atholl Crescent.
Designed by Michael laird Architects and RSP consulting engineers the 6,784sq/ft workspace incorporates a bespoke whisky display at the reception area and employs sustainably sourced material and technology.
Kenny Myles, director at JLL said: "After four successful decades within their Atholl Crescent premises, the Association was looking to take the next step and move to a modern, open plan office space. As a redevelopment of the former Royal Infirmary of Edinburgh, elements of tradition and modernity are well blended within the development, complementing the Scotch Whisky Association's own agenda.
"The Association's new space is bright, energetic, sustainable and well located. Most importantly, it is fit for the demands of a modern business and to successfully protect and promote the interests of the Association's members."
The office also provides flexible meeting spaces, breakout areas, 34 work desks, storage and a kitchen.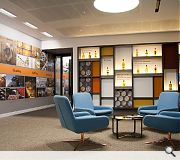 A miniature whisky exhibition is incorporated in the reception area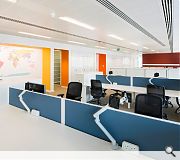 The Association's new HQ marries the traditional with the modern
Back to November 2015