Revamped Strathclyde Business School unwrapped
November 16 2015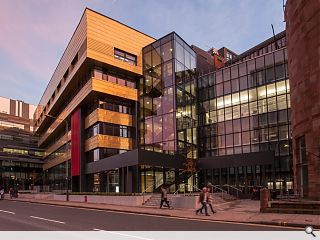 Hypostyle have unwrapped their recently completed upgrade of the
University of Strathclyde Business School
, which entailed the integrated refurbishment of the Sir William Duncan, SBS and Stenhouse buildings.
This work has created a single Faculty of Business spread across 14,000sq/m of floorspace housing teaching accommodation as well as associated support, servicing, circulation, core and breakout areas.
Centred on the brutalist Stenhouse Building the work has seen exposed concrete overclad with a terracotta and brass shingle cladding system
In a statement the architects said: "Works to The Stenhouse building involved comprehensive refurbishment of the entire building, internally and externally, upgrade to the thermal envelope, completely new services installations, construction of a new principal entrance & access stair to the front and new 150 seat lecture theatre to the university garden side."
The project is expected to attain a BREEAM 'Very Good' rating.
Photography by Mehul Ruparel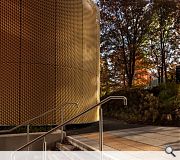 A new lecture theatre has been built on land to the rear
Back to November 2015