Mast seek planning for 37 Pollok homes
November 13 2015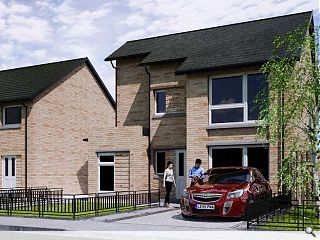 Rosehill Housing Co-operative and Mast Architects have submitted plans for
37 detached and terraced homes
on brownfield land at Househillwood Crescent, Pollok.
Set in an area of interwar housing on a plot once occupied by a school the homes will be situated along a landscaped strip with a pedestrian through route connecting to nearby open space.
In their design statement the architects observed: "We are proposing a single base material of brick to bring uniformity to the house types with feature panels of brick detailing to living room windows and entrance ways. This panelling will be a combination of corbelled brick work and precast string courses. We believe providing strong, simple robust details will provide a modern house aesthetic."
A site start has been scheduled for April 2016.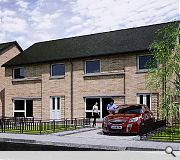 New homes will continue the datum line of existing properties
Back to November 2015