West Burn Lane picks up Andrew Doolan Award 2015
November 5 2015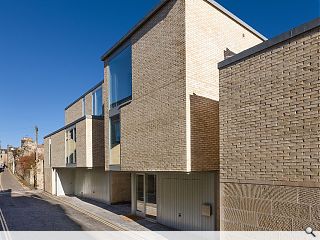 Sutherland Hussey Harris has picked up the 2015 Doolan Prize for their work on an innovative courtyard housing project in St Andrews, Fife,
after seeing off competition from 12 shortlisted projects
with a 'virtuoso work of urban renewal'.
West Burn Lane
sees infill homes and private gardens arranged along a narrow street, winning praise for acknowledging the medieval 'rigg' street pattern despite its unabashedly modern aesthetic.
In their citation the judges said: "Expertly woven into the existing fabric of St Andrews, although uncompromisingly contemporary, the development acknowledges the historic street pattern and scale of its special context. The external materials palette is limited and of extremely high quality. While the built fabric in the vicinity is predominantly structural stone, the use of a warm Continental brick with narrow courses is appropriate and welcoming."
Special mentions were given to Page\Park and Elder and Cannon's Laurieston Transformational Area in Glasgow and Arcadia Nursery in Edinburgh by Malcolm Fraser Architects.
Last year's winner was
Morgan McDonnell Architecture for Advocates Close
, Edinburgh.
Photography by Keith Hunter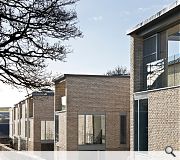 14 homes have been built in total by developer Eastacre Investments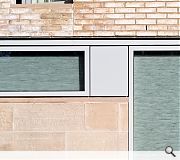 Homes are finished to a high standard throughout
Back to November 2015