Housing plans emerge for abandoned Inverness hospital
November 5 2015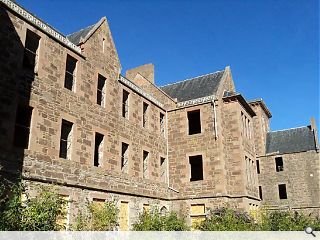 A B-listed former hospital in Inverness is to gain a new lease of life under
revised plans drawn up by Robertson Homes and Bell Ingram Design
to convert the structure into residential accommodation.
The £13m plan would see the fire-damaged Craig Dunain Hospital building converted to form 30 flats and 26 townhouses as part of a wider master plan for its grounds.
This will entail partial retention of the central core, including the façade of the chapel, maintaining the unbroken elevation, whilst demolishing the remainder of the side wings and infilling basement areas to facilitate creation of a central courtyard.
In their design statement Bell Ingram said: "The revised proposal is for the chapel elevation to be reduced down to the first floor string course. This would retain the ornate carved doorway and provide continuity of the elevation.
"The remaining north-west portion of the central core is considered to be capable of repair. Some of the walls would be rendered where they have been damaged by earlier demolition works. The roof would be replaced with a natural slate finish salvaged from elsewhere on the site."
Two central towers will remain at their present height rather than have their original pyramidal pitched roofs reinstated.
Back to November 2015