Balloch Shared Campus goes in for planning
November 2 2015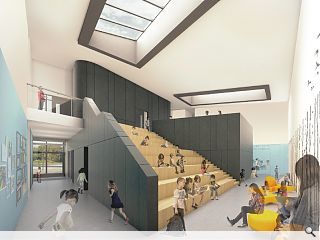 Holmes Miller, in tandem with Morgan Sindall and West Dunbartonshire Council, has
submitted plans for Balloch Shared Campus
, a new school on the site of the existing St Kessog's Primary.
Amalgamating the roll of St Kessog's, along with pupils from the nearby Haldane and Jamestown Primaries the campus will offer early years and childcare support as well as an early years unit.
In their design statement the architects observed: "To the front a feature pod clad in natural slating signifies the entrances and references the natural materials existent in the area; such as the new Carrochan National Park headquarters a little further up the road."
Entrances and shared accommodation are located at the heart of the plan with learning zones, including a mix of partially enclosed and open areas, radiating to either side.
Construction is expected to get underway in spring of next year.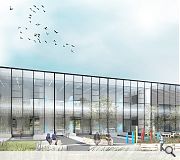 Large curtain wall elements in the entrance, gables and learning zone provide plentiful natural light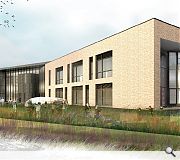 The school will be faced with multi-brick complemented by feature dark coloured cladding panels
Back to November 2015