Approval granted for Stirling University academic centre
October 28 2015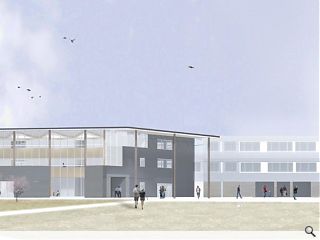 Stirling Council has given the green light to a
Page\Park designed academic centre at Stirling University
offering languages courses for foreign students seeking to undertake a degree at the school, in partnership with INTO.
Adjunct to the existing Cottrell Building, replacing surface parking, the accommodation will include teaching, staff and support spaces arranged over three levels served by a stepped atrium.
Outlining their concept behind the build the architects explained that it was conceived as "three interlocking elements", namely: "A mass of Stirling rock which is the functional core of the Centre, the 'sky' which provides the light filled social learning spaces and a circulation route which flows through the building and connects the rock and the sky."
In Feng Shui, a requirement of the brief, rock represents learning, sky represents socialising and friendship and river represents the journey.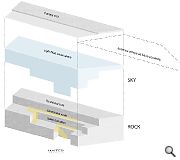 Feng Shui compliance was a requirement of the brief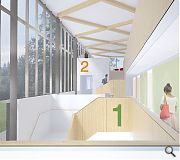 Social spaces and breakout spaces will be included in the atrium
Back to October 2015