McInnes Gardner Architects hope to solve Britain's housing crisis with ArcHouse
October 26 2015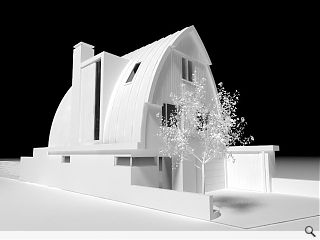 McInnes Gardner Architects have seen off competition from hundreds of entrants to win a Sunday Times Homes Awards competition to solve Britain's housing crisis.
ArcHouse is intended to serve as a template for low-cost volume housing within planned new garden cities which will be built around London with a barn-style aesthetic defined by a curvaceous roof and timber cladding.
These are configurable in stepped terraces of five with homes brought forward onto the street to discourage turning front gardens into car parks.
Explaining the approach in The Sunday Times senior partner Alastair MacIntyre remarked: "I wanted to get away from the typical rectangular solution, to create something softer and more romantic, but perhaps less efficient in terms of volume. After all, most people who have to look at and appreciate a house don't actually live there. And I was keen to create a sense of privacy and openness."
Costing less than £200k to build the 3 bedroom homes secured the backing of a third of voters, beating off competition from The Hundred Year Home, a contemporary take on the Victorian terrace by CF Moller and Hanging Gardens House by Somorjay & Talliss.
Housebuilder Redrow has committed to build a prototype ArcHouse for further evaluation.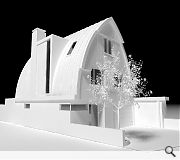 Each home will be built using aircrete- an environmentally friendly form of concrete breeze blocks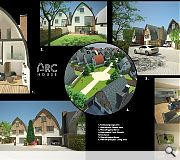 The three-storey homes will have an open plan kitchen/living/dining area
Back to October 2015