Paisley's renovated Grand Fountain picks up conservation award
October 23 2015
Paisley's newly renovated Grand Fountain has been handed a restoration award by The Institute of Conservation (Icon).
The community-based project was led by Renfrewshire Council, Historic Scotland, Lost Art and Industrial Heritage Consulting saw the A-listed cast iron fountain
A judges citation read: "[it] encapsulates the concept of engineering as both science and art, and provides a sense of pride and a feel-good factor. The people behind the restoration of this grand Victorian vision of civic joy demonstrate a belief that engineering enhances human well-being."
Other projects to be recognised by the cultural charity included the Tate's restoration work to remove indelible graffiti ink from a vandalised Rothko painting and the conservation efforts applied to the Staffordshire Hoard discovery.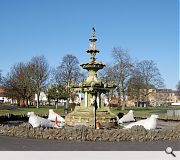 prior to renovation work the fountain was in a sorry state
Back to October 2015