Ogilvie to re-start stalled Garnethill housing
October 26 2015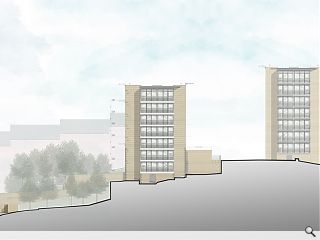 Ogilvie Homes have submitted plans to
finish off their Hill Street residential project
in Glasgow with revised designs for the fifth and final block in its
stalled Garnethill project.
These will reactivate the site which has lain dormant for seven years since the completion of ground and basement works on-site, extending the block around the original stair core to offer an additional 30sq/m of floorspace as well as cantilevered bays to the north and south.
Designed by Unum Partnership chartered architects the final block will be finished in matching cast stone and incorporate a total of 23 apartments.
The project dates back to 2009 when Ogilvie teamed up with Charing Cross Housing Association and Austin Smith Lord to infill a prominent hilltop gap site overlooking the M8.
Back to October 2015