Page\Park win planning for Tweedbank tapestry gallery
October 19 2015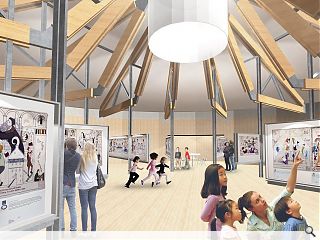 Scottish Borders Council has approved plans for a
tapestry gallery in the Borders village of Tweedbank
, custom-built to house the Great Tapestry of Scotland.
The gallery will showcase all 143m of the tapestry which depicts key historical events of the past 12,000 years after being painstakingly assembled by hundreds of people working in sewing teams.
Arranged over two levels the centre will host a reception, shop, temporary gallery, cafe and supporting services on the ground floor with the tapestry itself located above, situated beneath a dramatic trussed roof that has been modeled on the flower of the thistle.
In a statement the architects observed: "The external form of the building reflects its function as a plinth to a remarkable gallery above. It is proposed the first floor gallery is wrapped externally in a solid, decorative skin that would create a unique and iconic image for the building, worthy of this great artwork. The ground floor would then be wrapped in glass to create an open and easy flow of movement from the new train station, street and surrounding communities into the building."
Back to October 2015