Aberdeen student flats go in for planning
October 16 2015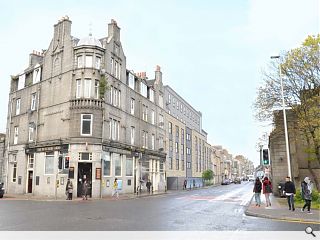 Yeoman McAllister Architects, acting on behalf of McLaren Property, have
submitted plans for 147 studio apartments for students
on Aberdeen's George Street.
Clad in light grey cladding panels, render and stone the property will back onto an internal courtyard with access provided directly from the street.
In their design statement the architects observed: "The proposals will enhance the identity of George Street by replacing a building which offers no contribution to enhancing or complementing the area, with one whose use is appropriate and is designed in a well-mannered language that is contemporary and sensitive to its surroundings, adopting a scale consistent with its neighbours.
"The flats have a well-designed front entrance which opens onto George Street, and allows for level access to communal spaces, flats, a lift, stair cores and reception area, with a WC.
"The site contains residential occupancy over all floors which in the future has the potential to adapt to changing living trends."
The scheme will entail demolition of an existing warehouse.
Back to October 2015