C-listed Aberdeen property to make way for student flats
October 13 2015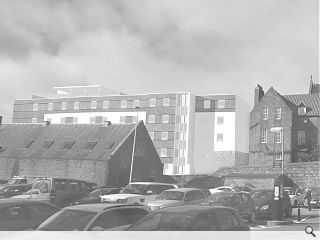 Seaforth Developments and Covell Matthews Architects have
submitted plans for the creation of 88 student beds
on the site of a C-listed granite building in Aberdeen city centre.
Located on the Gallowgate the property will be built from reclaimed rubble on the footprint of the existing structures with a base course of reconstituted granite elsewhere. Areas of smooth render and terracotta cladding to match the pan tile roof of the neighbouring St Margaret's Church will also be used.
Justifying the demolition Covell Matthews said that: "The base is formed in the 'solid' masonry, the body of the building is clad mostly in render and the capita is finished off in the terracotta panels. This classic method of composing elevations helps to reduce the scale of the building. However we were conscious that given the length of the building, simply using this method across the whole design might give the building an elongated appearance.
"We therefore chose to break the building up vertically where there were natural projections in the plan or areas of particular interest. The terracotta cladding panels are therefore used to divide the building vertically; providing interest to the corner where the building fronts Gallowgate, providing a backstop on the north elevation where the building reaches the church and emphasising the projecting form on the south elevation."
In addition to accommodation the development will include a roof terrace and a range of amenity spaces including a common room, games area, cinema, gym and study.
Back to October 2015