Falkirk Council press ahead with new HQ
October 6 2015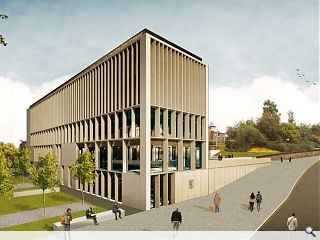 Ryder Architecture has submitted plans for a new
headquarters and civic space for Falkirk Council
on the site of the town's former Westbank Clinic, West Bridge Street.
Adopting a stepped profile in-line with surrounding topography the scheme will be faced with acid etched, precast frames with an inner layer of bronze anodised curtain walling
A spokesperson for Falkirk Council commented: "We have reduced the height of the building by a further 2.5 metres and design team have evolved the 3D visualisations and elevational treatments to highlight that this is a high quality, yet functional design, which will be appropriate for the Council's main HQ and will complement the architecture in this part of the town centre."
The project aims to rationalise the authorities current estate of 31 buildings totalling 32,624sq/m, spread across Falkirk and neighbouring towns, by moving to a more efficient space that will reduce floorspace by 60 per cent.
Falkirk Council's planning committee will assess the proposal early in the New Year.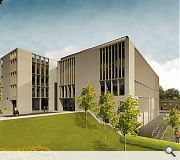 The build will pull the town centre further down West Bridge Street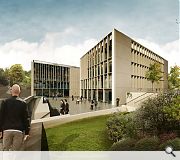 The scheme takes advantage of level differences across the site to reduce its impact
Back to October 2015