Devil's Elbow & Tomintoul Scenic Routes winners chosen
October 5 2015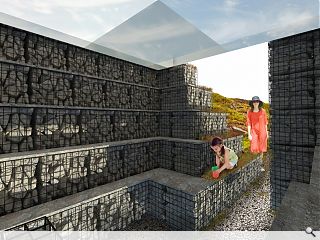 Winning entries for the third round of design competitions to be held under the Scottish Scenic Routes initiative have been selected for
two key sites within the Cairngorms National Park
.
This saw Daniel Smith and Philip Zoechbauer emerge victorious for the Devil's Elbow with their 'Connecting Contours' entry. Over at Tomintoul meanwhile Angus Ritchie and Daniel Tyler (Processcraft) secured victory with 'A Language of Stone'.
A third competition site at Banavie went without a winner after judges deemed that the three shortlisted submissions were 'insufficiently robust' to meet the design challenges presented by Scotland's longest flight of canal lock gates.
Helena Huws, architect at Scottish Canals, commented: "While on this occasion no winner was declared for Banavie, Scottish Canals is committed to continuing to work with the local community, our partners, and the Scottish Scenic Routes initiative to create a landmark that celebrates the unique character of the area and encourages even more people to explore the many wonders of the canal network."
Brian Wood, deputy convener of the Cairngorms National Park Authority (CNPA) added: "Once constructed these, together with the installation at Corgaff scheduled to be in place in November, will give us an outstanding scenic route along the eastern side of the Cairngorms National Park, from Glenshee to Grantown-on-Spey."
Both projects will be built by Spring 2016.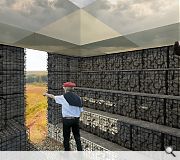 Angus Ritchie and Daniel Tyler (Processcraft) won out with this submission for Tomintoul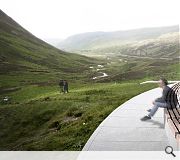 Daniel Smith and Philip Zoechbauer saw off three other shortlisted entries at devil's Elbow
Back to October 2015