7N Architects detail Portobello affordable homes
September 22 2015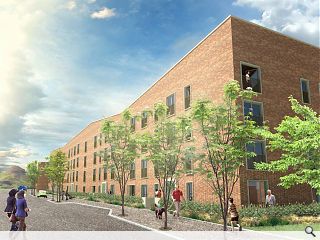 7N Architects have
submitted plans to build 52 homes on brownfield land at Fishwives Causeway, Portobello
, on behalf of Cruden – fulfilling the affordable housing requirement of a
wider site master plan
.
Designed to create a strong create frontage and enhanced public realm around a 'village green' the scheme forms part of a mixed use development comprising residential, retirement housing and a food store.
In their design statement 7N observed: "The massing of the block and its roof treatment speak to the contours of Arthur's Seat in the west and the ripples of the water of the Firth of Forth to the east, fostering a sense of continuity with the surrounding landscape and softening the mass of the four storey block."
A palette of brick has been specified to impart a 'calm and robust' aesthetic inspired by the Portobello brick kilns with windows and doors differentiated from the main façade by use of glass reinforced concrete surrounds.
In addition a planted buffer will skirt the building perimeter with 'pop-outs' into the carriageway on Baileyfield Road to break up on-street parking.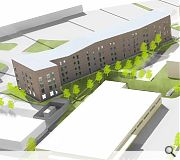 Communal areas to the rear are enclosed by planting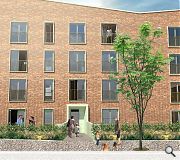 facades will be articulated by protruding window and door accents
Back to September 2015