BRE unveil low cost, sustainable and quick to build volume housing solution
September 11 2015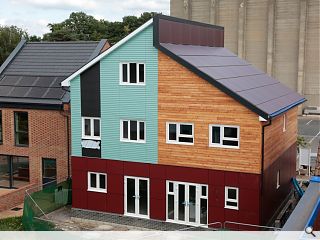 Two new factory-finished homes demonstrating energy efficiency have been unveiled at the BRE Innovation Park, Watford, with the promise of halving the construction schedule of a traditional build.
Brought to market by Userhuus AG and Tigh Grian the homes are built to the Scottish Building regulation Gold Standard with one sporting a fully building-integrated photovoltaic 'terracotta' roof.
The volumetric unit is configurable from one to five bedrooms using a structural insulated panel system that can be stacked up to five storeys in detached, terraced, tenement, semi-detached and four-in-a-block form.
Each of these units is delivered fully fitted out direct from the factory allowing homes to be completed in as little as eight weeks for a cost estimated at less than £1,000 per square metre.
Gordon Campbell, director, Tigh Grian Ltd., commented 'While there is a clear challenge in the UK in relation to housing supply, it is also clear we have issues relating to the type of housing we provide, and how we go about it. Tigh Grian has brought all of these dynamics together with a design that can be adapted across all tenure types."
The concept design has already been commissioned for a 50 home development in Alva with a construction start expected later this year.
Back to September 2015