Collective Architecture submit plans for Cathcart social housing
September 4 2015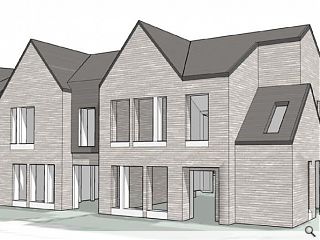 Collective Architecture has
submitted plans for 31 houses for social rent
and a children's home at Muirskeith Road, Cathcart.
Adopting the 'gable form' as a recurring design feature the scheme seeks to inject visual variety and interest to the street by projecting and recessing windows and doors. It is intended to fully integrate the care home into the neighbourhood by adopting a domestic style that blends in with adjacent homes.
In their design statement the architects said: "One of the key intentions from the outset is to "integrate" the care home with a design style that is non-instutional and deliberately domestic appearance, homely and welcoming. Closely blending with the neighbouring homes. Same architectural style and appearance as the wider development.
"Positioning the Children's Home on the site has been carefully considered. The location to the North East is preferred as this reuses an existing access point and has generous clearances for a new south facing garden."
All properties will be clad in naturally textured, water struck facing brick with precast concrete cills to further harmonise their appearance with care taken to retain existing mature trees on site.
The scheme will accommodate 27 houses and 4 apartments in addition to a children's home
Back to September 2015