Donaldson's College residential conversion back on track
August 26 2015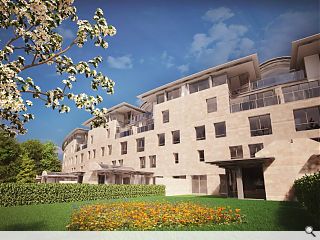 Long stalled plans for the
conversion of William Playfair's A-listed Donaldson's College
, Edinburgh, to residential use have been rekindled with the submission of plans by City & Country to insert 117 apartments within the historic fabric and remodel two gate houses into standalone homes.
This will see external elevations restored to their original condition with removal of steel entrance ramps, security grilles and surface mounted services with repair works carried out as necessary.
A crescent of new build properties overseen by CALA Homes will take shape to the north of the main college building, replacing a mishmash of ancillary structures to create a new 'formal' setting.
In their design statement Richard Murphy Architects wrote: "In the proposed scheme, the few remaining ancillary buildings are removed and the north site provided with a new 'formal' crescent building. As before, the crescent is arranged symmetrically around the Playfair Building, and broken at its midpoint, acknowledging the siting of the chapel of the Playfair Building. A formal lawn is provided between new and old, providing a new 'clean' setting to the Playfair building to its north face."
Ground floor flats will have access to private sunken terrace gardens whilst penthouse flats will open out onto a private roof terrace.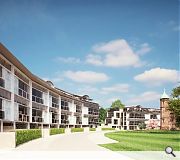 84 new build apartments will be created above basement parking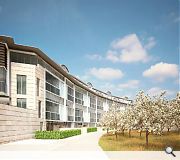 A split crescent of new build apartments will frame the northern edge of the college grounds
Back to August 2015