Planners consider merits of Tweedbank tapestry gallery
August 19 2015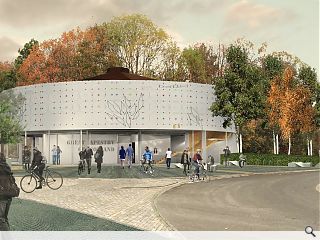 Scottish Borders Council is considering an application to build a
new gallery space to house the Great Tapestry of Scotland
within the village of Tweedbank – terminus of the Borders railway which is scheduled to begin operation next month.
The giant work of embroidery is the longest such tapestry ever made but lacks a permanent gallery space capable of doing justice to the 143m long piece. To remedy this architects Page\Park have drawn up plans for a split level building close to the station with a reception, shop, temporary gallery and café built on the ground floor to cater for the expected tourist hordes, with the tapestry itself located above.
To maximise floor space efficiency it was decided to shorten the displays length by mounting the tapestry in a series of rows offering both public and intimate settings, a decision which naturally led to an oval-shape. Continuing the Scottish theme of the tapestry itself the visitor centre will feature a roof structure that is intended to echo the distinctive flower of the Thistle.
In their design statement the architects observed: "Key to an efficient space distribution is the requirement to have back to back display panels dividing the main space into a series of segments. There are four lead walls providing the longest length of display panel that break the space into four main sections. Each of the main sections are then further divided into three smaller sections with shorter lengths of display panel. This creates a variety of spatial experiences and display options."
Externally the first floor of the visitor centre will be clad in precast concrete panels with cast-in artwork developed in conjunction with Andrew Crummy, the artist responsible for creating the tapestry within.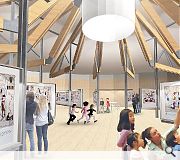 An oval floor plan was settled upon as the most practical means of hosting the out-size work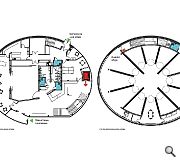 HarrisonStevens's landscape strategy aims to complement the radial form of the tapestry building
Back to August 2015