'Castellated' school to fortify Galashiels
August 17 2015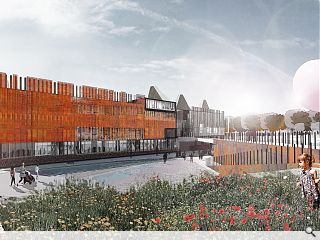 Stallan-Brand Architects have
submitted plans for their second primary school in as many days with proposals for a replacement Langlee Primary
to take the place of an existing 1960s building on the outskirts of Galashiels.
Intended as a gateway to the town centre the new school fronts onto the busy Melrose Road whilst plugging into surrounding pedestrian and cycle links as well as a riverside walkway.
Stretching over three levels to maximise a civic frontage, landscaping and south facing playgrounds the school will present a 'contemporary corten steel castellated ruin wall' to the street that draws inspiration from the many fortifications and castles which pepper the Borders landscape, complete with its own moat and drawbridge entrance.
This will be topped by sculptural roof lanterns which double as natural ventilation, roof lights and smoke extraction flues whilst referencing the chimney stacks and steeples of the historic townscape.
A simpler elevation to the south will be dressed with vertical windows spaced by masonry piers.
In their design analysis the architect's state: "The main entrances are marked with angled walls facing you as you approach the building from the north east. This also breaks the scale of the building down with the community accessible sports hall reading as a smaller element in the overall building form, dealing with the transition in scale to from civic frontage facing Melrose Road to a smaller scale facing Langlee Drive.
"We have proposed a contemporary castellated ruin wall, dressed in a natural bronzed cladding as the main architectural feature addressing Melrose Road, which we feel will provide a unique sculptural identity to the school."
Langlee follows
hot on the heels of Broomlands Primary
, a sister school proposed for Kelso as part of a modernisation drive spearheaded by Scottish Borders Council.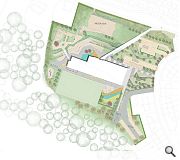 A first floor entrsnce space is accessed via a 'drawbridge' from the street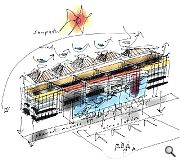 South facing classrooms are recessed to avoid heat gain
Back to August 2015