West Dunbartonshire Council seek planning for new office space
August 11 2015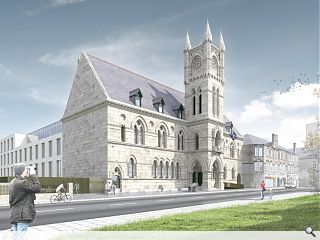 West Dunbartonshire Council has applied for planning permission for the construction of
Keppie-designed council offices
on the site of the A-listed Academy Building within Dumbarton town centre.
Delivered by hub West Scotland and main contractor Lend Lease the £14.6m project will deliver 5.455sq/m of floor space including meeting rooms and civic facilities behind the retained façade of the William Lieper design.
This will form the main entrance and reception space connecting to the new element of the project behind, a rational brick extension designed to blend in with the blonde sandstone.
Richard MacDonald, commercial director at Keppie said, "Our aim has been to respect the architectural significance of the original building, to repair its façade and to see it become part of a modern, flexible workplace. We want to preserve its civic nature by housing the community operations within its envelope, keeping the new office floor plates efficient, flexible and well lit, to the rear of the site."
Officials hope the project will help revitalise the High Street by drawing increased custom and footfall via an area of enhanced public realm on Church Street; including a terraced landscaped amenity space.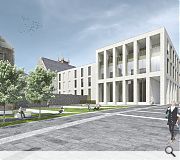 It is hoped the project will help to revitalise Dumbarton town centre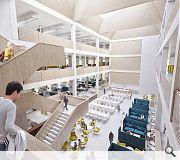 Open plan offices wrap around a central atrium
Back to August 2015