Former RAF base appears on architect's radar
August 11 2015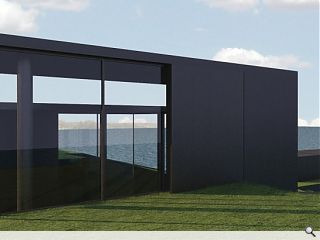 An abandoned RAF base perched on a cliff edge overlooking the Forth is set to become a new home for a high flier with it being offered for sale with full planning permission for £3.5m.
Plans drawn up by Italian practice Lazzarini Pickering Architetti will see the sprawling Gin Head complex turned into a 26,164sq/ft home with no less than 13 bedrooms, four living rooms and three dining rooms as well as a spa and pool.
In their design statement the practice said: "The landscape comes up and over the building, planting comes up and over voids and solids, providing between them a glorious integration of landscape and building.
"It is a building of grand spaces, expansive staircases, magnificent reception rooms, massive skylights in the pool area, great sheets of glass that look out on internal couryards offering wrap-around transparency. This is idealised 3rd millennium living, with reference to Inigo Jones, Palladio.
"Yet in spite of its awe-inspiring modernity, it is in the tradition of the big, hospitable English country house, with a grand entrance to the courtyard, followed by a precision of places and rooms for a relaxed way of living."
Permission has also been granted to build seven separate properties within the five acre site should no single occupier wish to take on the space.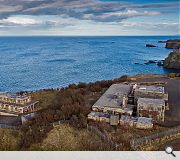 Gin Head, near North Berwick, enjoys uninterrupted views across to the Bass Rock and Tantallon Castle with planning permission in place for conversion to a 'contemporary fortress'.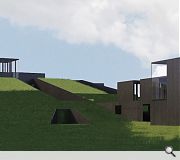 The scheme is conceived as two separate villas connected by sky-lit underground spaces the architects intend to minimise the built footprint as far as possible
Back to August 2015