York work of art leaves lasting legacy for Kathryn Findlay
August 6 2015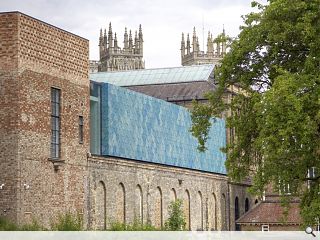 York Museums Trust have opened the doors to a newly refurbished York Art Gallery following an extensive programme of expansion and refurbishment at the hands of Simpson & Brown and Ushida Findlay – delivering the last project to have been overseen by
Kathryn Findlay before her tragic passing
.
The £8m project is intended to act as a cultural counterpoint to London by imparting a contemporary architectural identity and reinstating original volumes which had become partitioned over time, increasing gallery space by 60 per cent in the process.
Significant interventions include the insertion of an upper mezzanine level within the existing gallery roof void along with a first floor extension to the south, presenting a glazed tile wall to the Abbey Gardens, inspired by historic tiling in the city.
In a design statement the team wrote: "The mottled glazing of the material offered an opportunity for a splash of colour – the choice of which was inspired by the abundance of blue-greens around York. The scale and modelling of the sub geometry within each tile is intended to tie-in with the scale and texture of bricks and roof tiles on the building."
Elsewhere a steel and timber balcony and stair structure improves access from the gallery to a new external terrace, enhancing the utilitarian nature of a 1940s extension in doing so.
Back to August 2015