Heritage Lottery Fund endorses Kilmartin Museum redevelopment
August 6 2015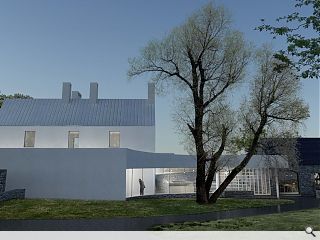 The Heritage Lottery Fund has endorsed a £6.1m outline bid to redevelop
Kilmartin Museum, Argyll
, after awarding the project with a £400k grant and agreeing to consider a separate £3.1m funding request.
Situated in Kilmartin Glen, an area rich in Bronze Age and Neolithic artefacts, the museum tells the story of 800 monuments within a 10 mile radius which together constitute one of Britain's most important prehistoric landscapes.
Expansion plans drawn up by Reiach & Hall Architects will allow more artefacts to be displayed via a new exhibition gallery, whilst a temporary exhibition space will also be created.
This will be joined by a learning suite and laboratory made available for a programme of cultural events and activities.
Reiach & Hall director Neil Gillespie OBE said: "Kilmartin Glen is a very special place, remarkable not only for the number and quality of its archaeological sites but also for its wonderful west coast landscape and light.
"The Board and staff of Kilmartin Museum are not only totally committed to safeguarding these prehistoric and early historic artefacts, they are concerned with revealing them to us, not to mention also administering warm hospitality [i.e. cakes!] with a strong sense of community."
It is hoped to have the new look facilities in place by 2020 subject to a major public fundraising campaign.
Back to August 2015