Inverkip Community Centre set for autumn start
August 4 2015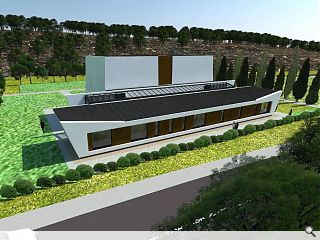 Inverclyde Council is poised to appoint a main contractor for delivery of a
£1.8m community centre in Inverkip
ahead of an anticipated autumn start on-site.
Designed by SasanBell Architects the facility will comprise a 90 seat capacity multi-purpose hall alongside a library, meeting room and café as well as a 3G sports pitch and community open space.
Finished in stone, facing brick and render with small areas of timber cladding the builds wings rise up at either end in a tribute to the maritime influence of the area with a central two-storey element intended to rise like the sail of a ship.
In their design statement the architects stated: "This element of the building is purposely placed to the rear to reduce the visual mass of the structure and also provide shading to the glass link corridor reducing solar heat gain from direct sun light to the south.
"The lower single storey part of the building is a low key accommodation containing café, meeting rooms, library and washrooms etc. This long and narrow block is set parallel to the road to address the street/road scape and provide edge to the development. This also masks the lower part of the hall, reducing the visual impact of the hall.
"The picture windows at either end of the lower block connect with the play area outside the café on the west and the landscaped areas from the meeting room to the east."
The main mass of the centre will house the community hall which will play host to local events as well as table tennis and badminton sessions.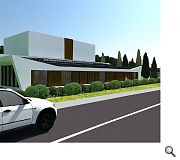 The building offers a degree of privacy to a recreation area at the rear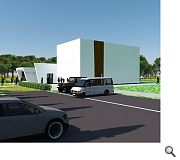 The nautically inspired community centre stands like a ship on the A78
Back to August 2015